Home
/ E-commerce Website Design
E-Commerce Website Design Company Ranchi, India
Every business requires a solution that is helpful to the company's development, and Jharkhand IT Services is a company that offers an e-commerce platform for businesses that is not only secure but also provides a fantastic user interface at an affordable price. E-commerce is an advanced web-based solution that allows vendors and consumers to engage in a virtual marketplace. E-commerce Services have transcended demographic borders, attracting consumers from all around the world to come together and meet their needs. An E-commerce website allows companies to be available 24 /7. Our team members meet with customers early on to discuss strategic planning, which aids in maximising the benefit of an online shop. An E-commerce website is highly flexible and it allows one to grow their company over time.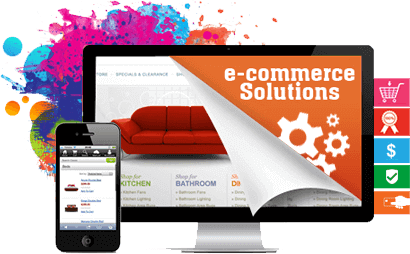 Why is Jharkhand IT Services the Best choice?
Jharkhand IT Services E-Commerce Website Design Company Ranchi provides well-designed and efficient E- commerce solutions for businesses of all sizes. Our experts have extensive experience in online business and a solid understanding of industry developments. We will include complete E-commerce Development strategies, as well as a professionally designed distribution platform that increases cost savings and profitability in the short and long term. Our e- commerce development services can assist you in driving a large volume of targeted traffic to your online store with minimal effort. We are a leading E-commerce website Development Company that provides high-end and cutting- edge e-commerce solutions to small, medium, and large-scale businesses.
• Shopping Cart Services:
Our online shopping cart provides companies with maximum versatility when it comes to selling their goods online. We have a wide variety of fully-featured skilled shopping cart solutions in India while keeping the client's online business needs in mind.
• Certificates for SSSL:
In addition to developing enterprise-grade E-commerce technologies, we as an e-commerce service provider assist you in keeping your customers' details safe and secure by offering a diverse variety of SSL certificates. With super protected SSL Certificates, you can reduce the chance of revealing credit card numbers, usernames, passwords, and addresses.
• Solutions for the Market:
If you have a concept for selling goods or services to customers, we have some best-in-class B2B and B2C E- commerce marketplace applications in place. We will assist you in rapidly creating, launching, and managing your online marketplace. Anything is bundled into a single platform.
Why pick Jharkhand IT Services E-Commerce Website Design Company India?
Jharkhand IT Services E-Commerce Website Design Ranchi business has over 5 years of experience in E- commerce site creation and Corporate website development. We have extensive knowledge of the global E-commerce languages and systems. We specialise in professional website creation, Virtumart, Drupal, Joomla, Zencart, Meganto, and WordPress. Our Ecommerce Solutions are loaded with the best features and functionalities while being affordable and fully customizable. Many of your specifications and custom functionalities are thoroughly discussed by our experts. Then we start working on perfect solutions that will help you achieve your goals.
An online shopping cart that visitors can add products to and modify
Order history, shipping status, wishlist creation
Secure checkout with 128-bit SSL encryption
Gift wrapping option and gift card messages
Integration with Paypal and over 50 other payment gateways
Anonymous, one-page checkout to help improve conversions
Add and edit product pricing and descriptions with ease
Custom attribute options for products, like color and weight selections
Stock and inventory management
Sales reporting that can be exported to spreadsheet formats
Search Engine Optimized with SEO friendly links and sitemaps
Offer coupons, discount codes, and gift certificates
Open form
To Top