Home
/ iOS Application Development
iOS Application Development
IOS App Development Company Ranchi, India
Jharkhand IT Services combines innovation and technology to provide clients with an exhilarating experience. Our talented iPhone app developers have what it takes to have what businesses want. Jharkhand IT Services, a leading iOS software development firm, provides world-class iPhone apps with the shortest production period and the most affordable price tag. iOS is one of the most common mobile operating systems for Apple-supported mobile devices. The most advanced product development tool is iPhone software development. Our iOS product development company offers iPhone app design, development, testing, and launch services that provide clear value at any stage of the iOS development cycle. If you are looking for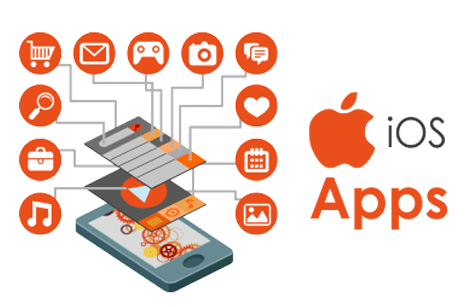 an iOS software development company in Ranchi or iOS mobile app development, you should appoint us because we operate equally well on all Apple devices.
Solutions to all the IOS App Development Needs
As a leading iOS software development organization, we have reflected experience in iPhone device development. Our iOS software development services are flexible and dynamic. We sell a wide variety of iOS applications for all of Apple's smart devices, including the iPad, iPhone, Apple TV, and Apple Watch. Our iOS software engineers have hands-on experience developing iPhone applications for a variety of companies. To build stunning and immersive iOS games, our programmers adhere to the iOS Human Interface Guidelines. Our goal at Jharkhand IT Services  is to create superior apps that represent your vision. We accomplish this by integrating the business knowledge with our technological skills. We offer a range of mobile app development and iOS app development capabilities for your iPhone mobile, such as full- screen streaming, customized replay speed, closed captioning, auto-play, and more.
Why is Jharkhand IT Services the Best choice?
Jharkhand IT Services manage the entire production cycle, from idea generation to final testing and release. Our iOS application development services are among the top choices. Our Ranchi iOS product development company designs and builds feature- rich, user-friendly ios app development for consumers, assisting them in taking their industry to the next level. To suit our clients' company specifications and expectations, we offer personalised native and hybrid iOS product creation for iOS users. Jharkhand IT Services' iOS app developers team specialises in iOS Mobile App Development using Xcode and Swift, which results in iPhone applications recognised for their scalability, robustness, crash-free operation, flexibility, and feasibility.
Why pick Jharkhand IT Services IOS App Development Company Ranchi India?
Team of Jharkhand IT Services has completed multiple core projects using a validated iOS application creation framework. The lessons gained from these perspectives have assisted us in developing a scalable and cost-effective software creation process. You can collaborate with us on services like:
Planning and Requirement Analysis: Our planning approach is based on a thorough view of the customer and the need. Finally, they freeze listed features after obtaining client approval before beginning construction work.
Digital transition: This is our starting point for a project. First and foremost, we systematically create a digital format and an implementation blueprint for all technological requirements before stepping in.
Testing: The breadth of your requirements is the foundation of our efforts. Our app development plan aims to design and develop a completely functioning but attractive application that meets your needs and encourages user interaction. We are skilled at Customization in order to maximise the efficiency of your budget.
Coding: It's time to put the finishing touches on your project. To gain full accuracy, our research staff conducts and adheres to stringent quality control tests. As a result, we have bug-free iOS applications to ensure the company is adequately covered by our apps.
Cost effectiveness: We have product creation packages at the most competitive prices in the industry, without sacrificing app efficiency.
Customisation: It is our ability to customise that allows us to outperform our rivals. There is no wasting of money or time and customer needs are the driving force behind our growth strategies.
Experience: We have over 5 years of experience developing top- class iOS apps for various regions around the world.
Flexibility: Our iOS product development experts have hands-on experience in both native and hybrid iPhone app development.
Loyalty: We trust our clients so much that we include them in the whole production phase of app design until it is flawless.
Maintenance and support: We see app production as just the beginning of a long journey. We provide specialist assistance and backup service  24*7*365.
On-time delivery: Time and tide waits for none. We respect your time and therefore finish the whole project without time delays, following the deadlines until the last minute.
Security:  We have extra eyes on app protection from the beginning of the design and coding process.
Open form
To Top