Home
/ Web Application Development
Web Application Development
Web Application Development Services Company Ranchi, India
Jharkhand IT Services - a place where your imagination finds shape.   Our Professional Mobile Application Development specialists are equally adept at designing personalised creative web apps to meet specific market needs as well as standardised and native apps. Web app development is like a moving escalator. Change is unavoidable, requiring continuous capability enhancement in order to remain competitive. Jharkhand IT Services has remained on the fast track by providing top-notch services across several sectors to the best satisfaction of clients. Planning, planning, market analysis, architecture, programming, testing, and training – the linear sequential flow of our web application development approach – has helped us win our clients' confidence and admiration.
Why is Jharkhand IT Services the Best choice?
Jharkhand IT Services develops exclusive classified apps that are simple and useful for buying and selling items in your area. Jharkhand IT Services' development team focuses on developing applications that bring value to businesses in a range of sectors and sectors such as E-Commerce, banking, and E-learning. In addition, we provide long-term maintenance contracts for our web apps to back up our work.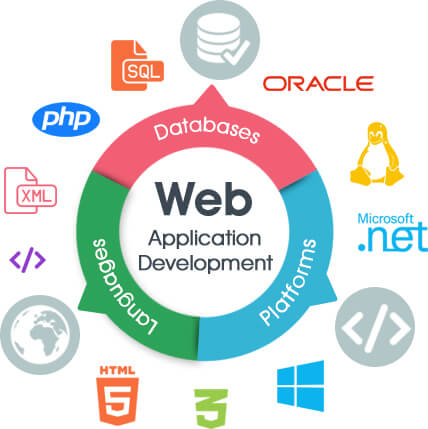 All you have to do is let us know your requirements, and we will provide you with the most robust custom web app development services.
We develop a plan to show your proposal to the world using the latest prototypes and interface after reviewing the specifications. We will owe our clients everything we have.
AOur mobile app creation specialists work tirelessly to provide efficient assistance around the clock, minimising the need for frequent connections and thereby avoiding unnecessary delays.
How Jharkhand IT Services Company, Ranchi India Proffer Web Application Development Services?
Jharkhand IT Services provides mobile application services, so you don't need to include another agency when creating your web app.
• Custom Web App Development:
Jharkhand IT Services creates custom web apps for our clients. Our procedure guarantees round-the-clock assistance and consistent maintenance. We will be in charge of both the backend and frontend production, as well as testing and support.
• Web App Development for E-commerce:
E-commerce web platform used to conduct internet transactions. Integrate your company into a mobile application to see an increase in revenue and traffic to your website in a limited amount of time.
• CMS Web App:
Another feature we have is content management for your web application. Our specialists guarantee consistent content management as well as effective management.
• Reengineering of Web Applications:
You're exhausted from your out-of-date online browser. We've got you protected there. Experts from Jharkhand IT Services will reengineer your web app and make it the best in the industry for you.
• Web App Consulting:
Jharkhand IT Services would provide you with the best web app consultancy services to help you create a world-class application. Join us and you will be upgraded.
• Designs for Responsive Web Apps:
Jharkhand IT Services develops responsive mobile app templates that emphasise user experience and ease of navigation. Our designers have years of experience to help in the design process and the development of perfect web applications.
Open form
To Top